Socks, socks, and more socks!!!!!
I received these lovely socks from one of the knitter's on the Knitty boards. A while back I offered sock yarn to knitter's who were interested in knitting socks for free sock yarn. I had amassed quite a collection of sock yarn but hadn't knit a pair. It was a great way to stash bust while receiving some lovely hand knit socks!!!
I had actually started these as my first pair of handknit socks and couldn't get past the large amount of stitches and the cast on of the Diamond Top Socks pattern from Knit Picks. The socks turned out lovely and fit like a dream!!!!! I love them!!!!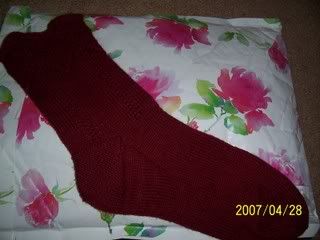 It's very hard to take a good photo of your foot.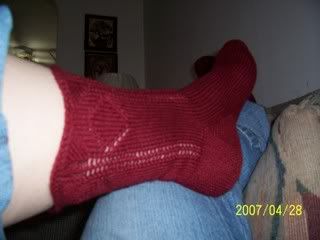 Here's another try; at least I get an A for effort.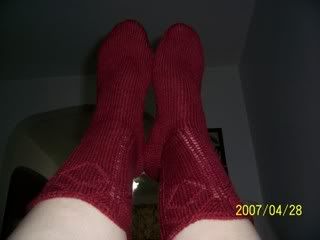 Diamond Top Socks, knitted in Knit Picks Gloss (Burgandy) by DarbyRose.
Oh BTW, I'm
destashing
. Let me know if you see anything you'd like.