Where does the time go?
First off, CAMERA found!!!!! I was over my parent's house on Easter and mentioned I misplaced my digital camera. My Mother reminded me that I left it at her house at Christmas, yes Christmas, and I asked her to put it up for me. "Don't I remember?" Obviously not as I've been tearing my house apart looking for it. Needless to say, I wish I would have mentioned it to her earlier.
So this post will have some PICTURES!!! Yipee!!!
First off a few pics of some sock I got in the "knit socks for yarn swap".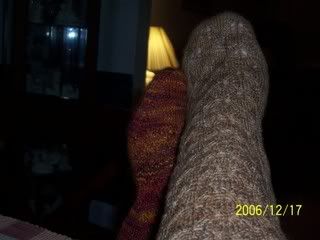 Elfine socks in Mama's E Chocolate colorway knitted by
Tigerlilith
Mountain Colors Bearfoot Sock Pattern & Yarn; Colorway: Yellowstone (forgive me I can't remember the knitter at the moment - need to check my notes, will update later.
Received just today!!!!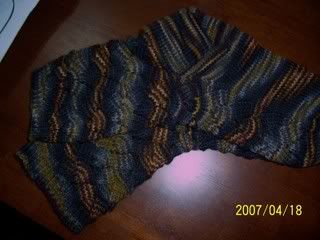 Monkey Socks in Socks That Rock - Carbon knitted by
Stariel
Love, love these
socks
!!!!
I've been working on
Glee
from
Zephyr Style
. This is my first top down sweater; it's been a dream now that I'm past all the stockinette. Not looking forward to picking up the many many many stitches necessary for the collar but a girl's gotta do what a girl's gotta do.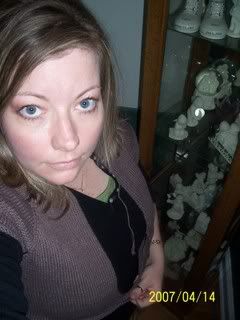 Got a new bag!!! Made w/
Amy Butler
fabric. I love, love, love her fabric designs! I'm dying to make a quilt from her Sunbloom
Lush
collection but am having difficulty figuring out when I'm supposed to fit it in with all my planned knits.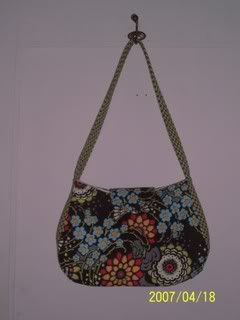 Larger Image
Interior