I've caught the WAVE!!!!
I finally started my Christmas knitting. I've decided to knit
Wavy
from
Knitty
for one of the ladies at work. We draw a name each year so I thought I'd give her some hand knitted goodness. I'm using Lorna Laces in the
Jeans
colorway. I bought this yarn off ebay and it came w/ a 2 sided knitted cable pattern that I find too confusing. Maybe it's the pressure of being under the Christmast Party deadline(December 22nd) but I just wasn't feeling the knitting love so I put frogged it and decided to go with Wavy. I'm only on row 5 (lol! :)) but I find it be a fun knit and I'm enjoying the ease of the pattern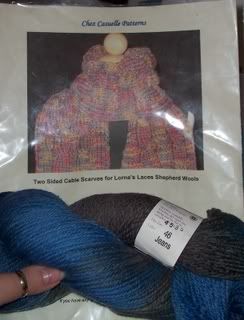 Oh, did you see my sock that
tigerlilith
finished. It is beautiful!! I just love it!!! (Thanks Lilith) One down, one to go and some knitted sock goodness will be on it's way home to mama!! Yeah baby!! This was such a fun swap; I get some beautiful knitted socks and my swapee (or is it swaper? whatever)gets some lovely FREE sock yarn. Love it!!