Unrealistic expectations.............
In my mind, which is a great place to be, I was sure I would finish the front of my Krista Tee this weekend. I mean it was a 3, THREE, day weekend. It made complete sense that I could have committed the entire weekend to finishing Krista; in my mind that is.
Of course I didn't factor in the boys or birthday celebrations or the Maryland State Fair. Nor did I even fathom that I might actually take an afternoon siesta two out of three days.
Here is Krista's progress...........I am/was almost finished the lace at the bottom of the front when I realized I had cast on w/ the larger of the two needles as opposed to the smaller. Looks like I'll be ripping this out in the morning.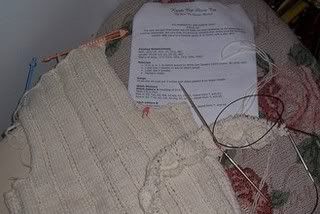 In other news, it looks like my Pure & Simple will be shipped out tomorrow for Stitch Diva's Fitted Bodice. I'm giving myself this week to finish Krista and hope to cast on next Sunday or Monday.