Stitch Diva's Fitted Bodice (by Stefanie Japel)
I COULDN'T RESIST. It is too lovely for words.
Stitch Diva's Fitted Bodice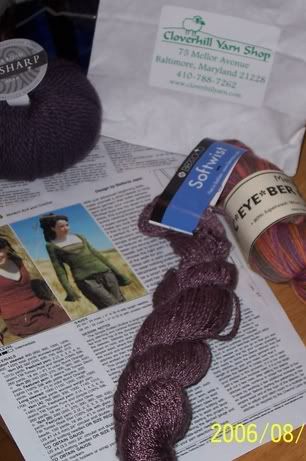 YARN:
Jo Sharp Silkroad Aran
- I'm really hoping I can get gauge with this puppy as it is heavenly.
Berroco Softwist
- substitute yarn per pattern, it's silky but my fear is it will be very slippery. We'll see.
Mama-E's
C*Eye*Ber Fiber Sock
in Fall Foilage*. I thinking of knitting the
Diamond Fantasy Scarf
as it only takes 350 yards for the "scarf" and as
Stephanie Pearl-McPhee aka "The Yarn Harlot"
states it's a shawl to her.
Knitty's KAL
Crafter's KAL
*Mama-E's yarn are now being carried at
Cloverhill Yarn Shop.
Woo Hoo E!!!!