Happy Birthday to Me!!!
I decided that it was perfectly fine to buy me a birthday present. More specifically YARN baby!! I also picked up this
little number
.
I'm planning on knitting it in Jaeger Trinity. The main color in Clay and the trim in Sunny.
And lookie, lookie what has already arrived in the mail.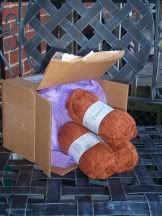 Here's a close-up of the yarn.