Ball Winder......fun for the whole family!
While the oldest was attending a birthday party at the skating rink. The little guy and I picked up my new ball winder. I had no idea how handy that little bugger was going to be.
Did I mention it is rainy and blah today in MD. Really really blahhhhhhhhhhhhhhh. :( Guess what saved the day!!! Mom's new ball winder!!!! :) Kept the kids occupied and quiet for a good 45 minutes. It would have most likely lasted longer had they not started to boss one another around.
Who'da thunk! **slaps forehead**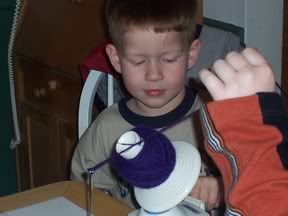 Royal Ball Winder Fun for the Whole Family!