Yes, hanging head in shame, I have yet again added to my yarn stash. I'm thinking I may have to take drastic measures to curb my yarn addiction. I'll ponder this awhile until my latest yarn orders arrive(Yarn Market & Knit Picks).......then I will contemplate the steps necessary to curtail this addiction. :P
Until then, behold.....

Yummy Yumminess. Some Crystal Palace Cotton Chenille for the flower washcloths, Sugar n' cream in various colors for dish cloths, and Noro Silk Garden, No. 203 for Ruffles from Scarf Style. I can't wait to see the transition between colors while making the ruffles.

Some lovely silky wool, color #14 which was originally destined to become a baby sweater and booties which is now thinking of becoming the Adrienne Vittadini's Sleeveless Top from Vogue Knitting's Spring/Summer 2004 issue. This switch is not definite as a AV Ballerina T-shirt has also cross through our line of vision.
And last (for now, lol) is our Multi-directional scarf done in Noro Kureyon #116 to match mittens done in same colorway. If I calculated my yardage correctly, there should also be enough yarn for a hat. Only time will tell.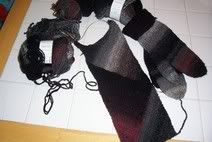 Just because I think they are so dern cute!!! My guys!!!