Anyone else lov'in this sweater?
Cyclamen Wrap Sweater from Rebecca 30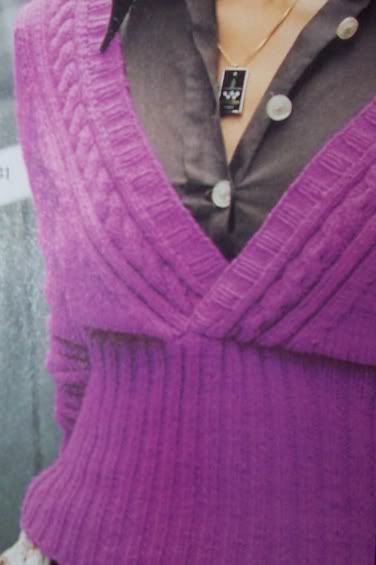 It calls for GGH Solitaire, 500. 500 what? Meters? Yards? etc.
This is my first Rebecca pattern and I'm somewhat nervous as I've heard people state their pattern directions aren't the clearest. Wish me luck.
Hmmm......wonder if I can find a comparable yarn at
Elann
or
Knit Picks
.
Okay did a search of GGH Solitaire.....here's what Muench Yarns has to say about it.
Solitaire
Solitaire has a new not so common component called Elite. Elite is a lycra type stretch nylon which gives the yarn lots of memory. This yarn is suitable for form fitting, waist hugging Rebecca sweaters. A wonderful way for us to show off our girlish figures.
Note: due to the stretchabilty, patterns calling for this yarn will be hard to substitute! Use the original, use Solitaire.
Item #: Solitaire
Stitches to the inch: 5
Material: 44%merino wool 43%polyester 13%elite
Weight per skein: 50g
Needle Size: 7-9
Okay now I will be a stressed out mess. Do I use the Solitaire or attempt to substitute?