A Dinosaur Scarf for my little guy.....
who is not so little anymore. My youngest turned 10 on the 11th. 10!!!! I can hardly believe it! I promised him a Critter Knit from
Morehouse Farms
ages ago. I finally purchased the
Dinosaur Scarf Kit
in the Fall 2010 (just so you know it was recent purchase and not purchased in the Fall some many odd years back, lol!).
The kit was such fun. Potato chip knitting at it's finest. It was so much fun to see the jaws take place and the join for the top and bottom jaws along with the tongue was just genius! The pattern was clear, easy to read and broken down appropriately. Knitting the spikes was addictative.
It is probably just a tab bit babyish for my 5'4" 10 yo (I know, 5"4"!!!! He's going to be a giant!!), but he still states he loves it and will cherish the hand knit from Mommy (he just may not wear it out of the house until he's at an age where he doesn't care what other's think. I can see that he has just started to care about what other people think, hopefully it won't last long - life it too short to get caught up on conforming with the herd. Individuality is the spice of life!).
My (not so) little guy and his dino scarf.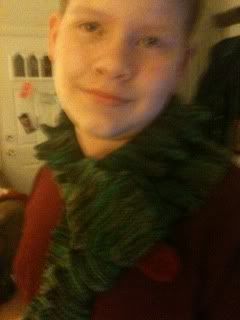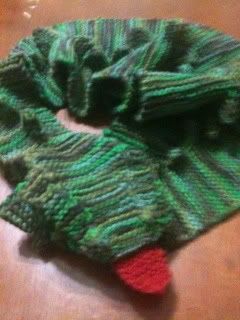 We still need to pick out buttons for his eyes. The kit inclued felt to be cut into circles but a saw a few on Ravelry with button eyes and we decided to go that route.